Give Your Body an Epic Immune Boost
Because offense is the best defense.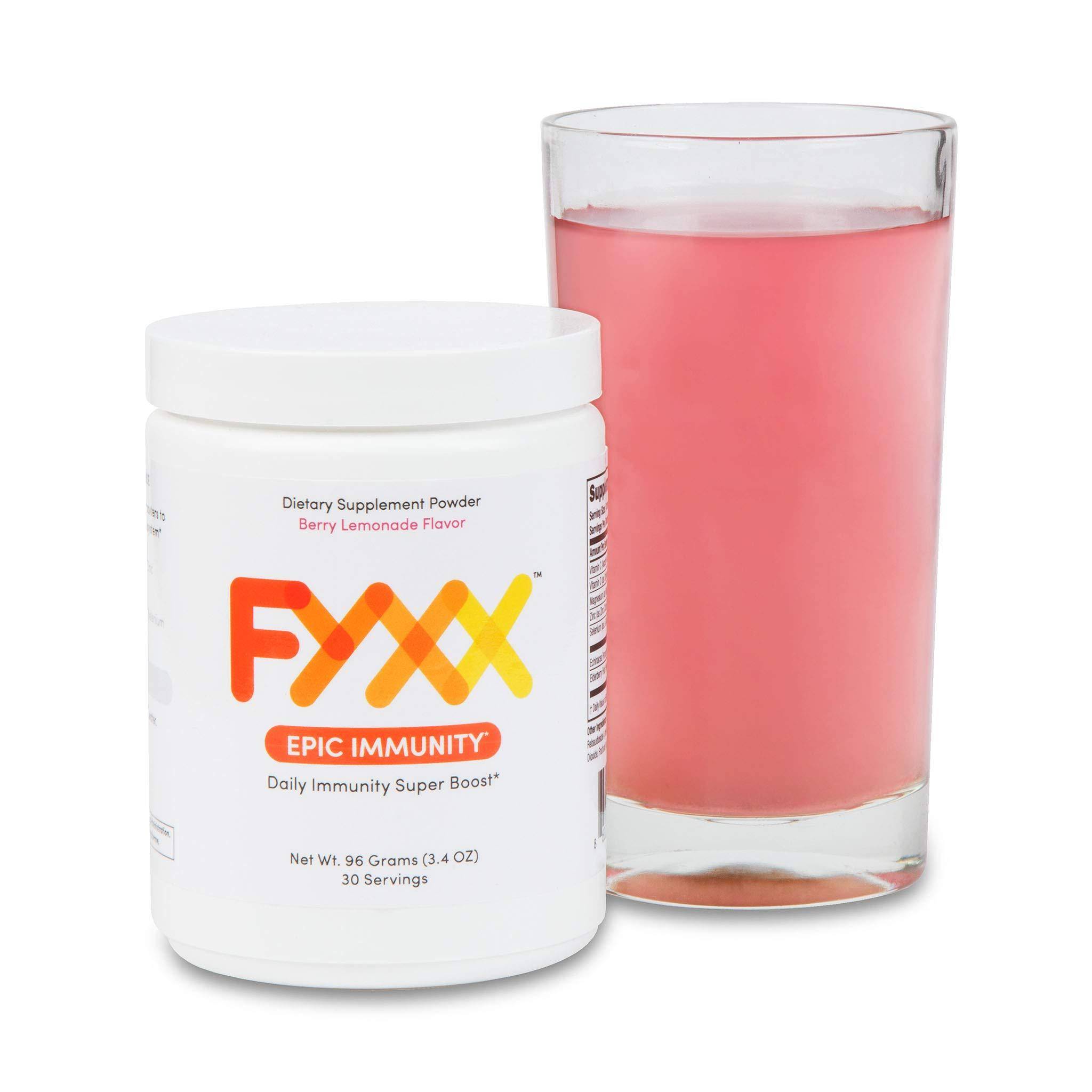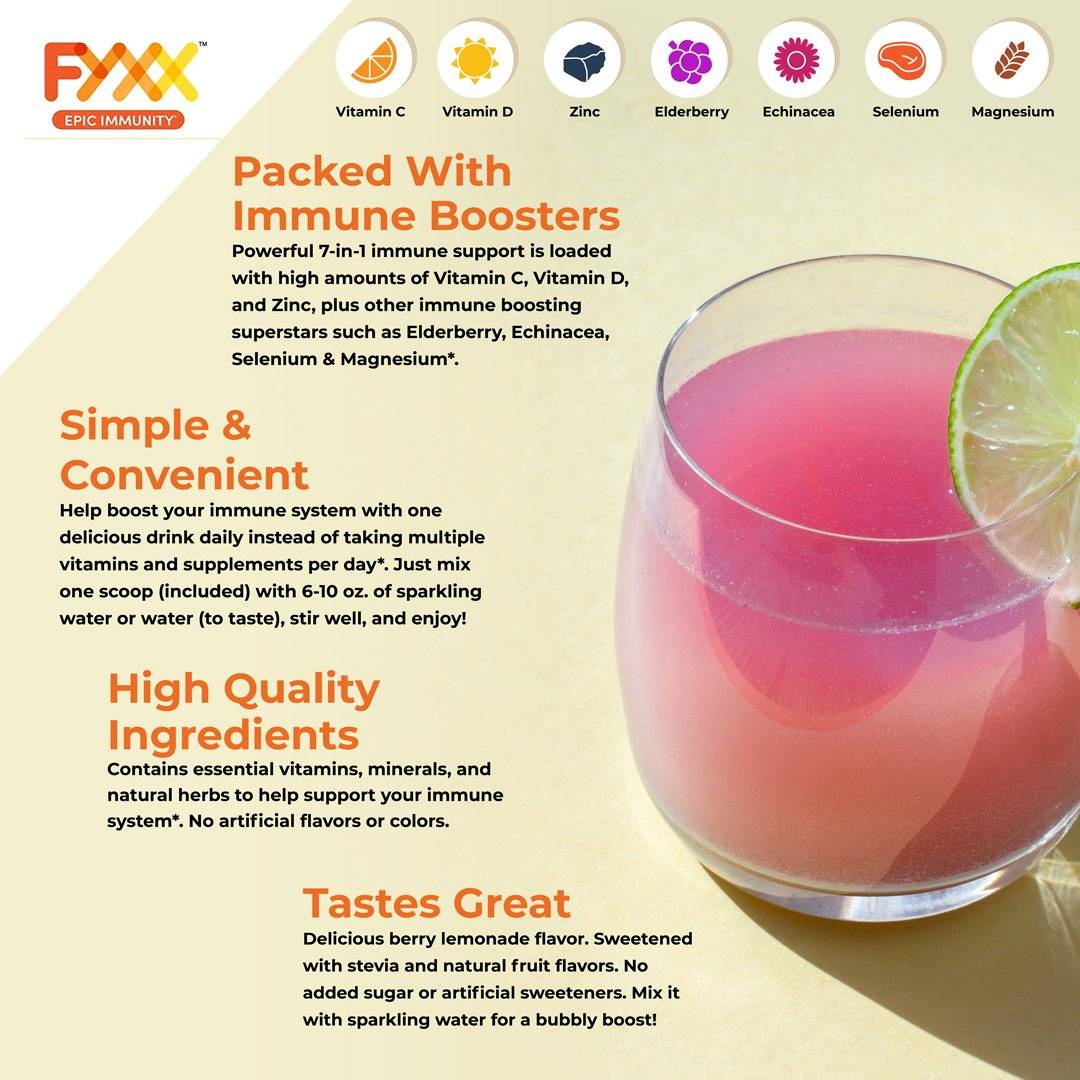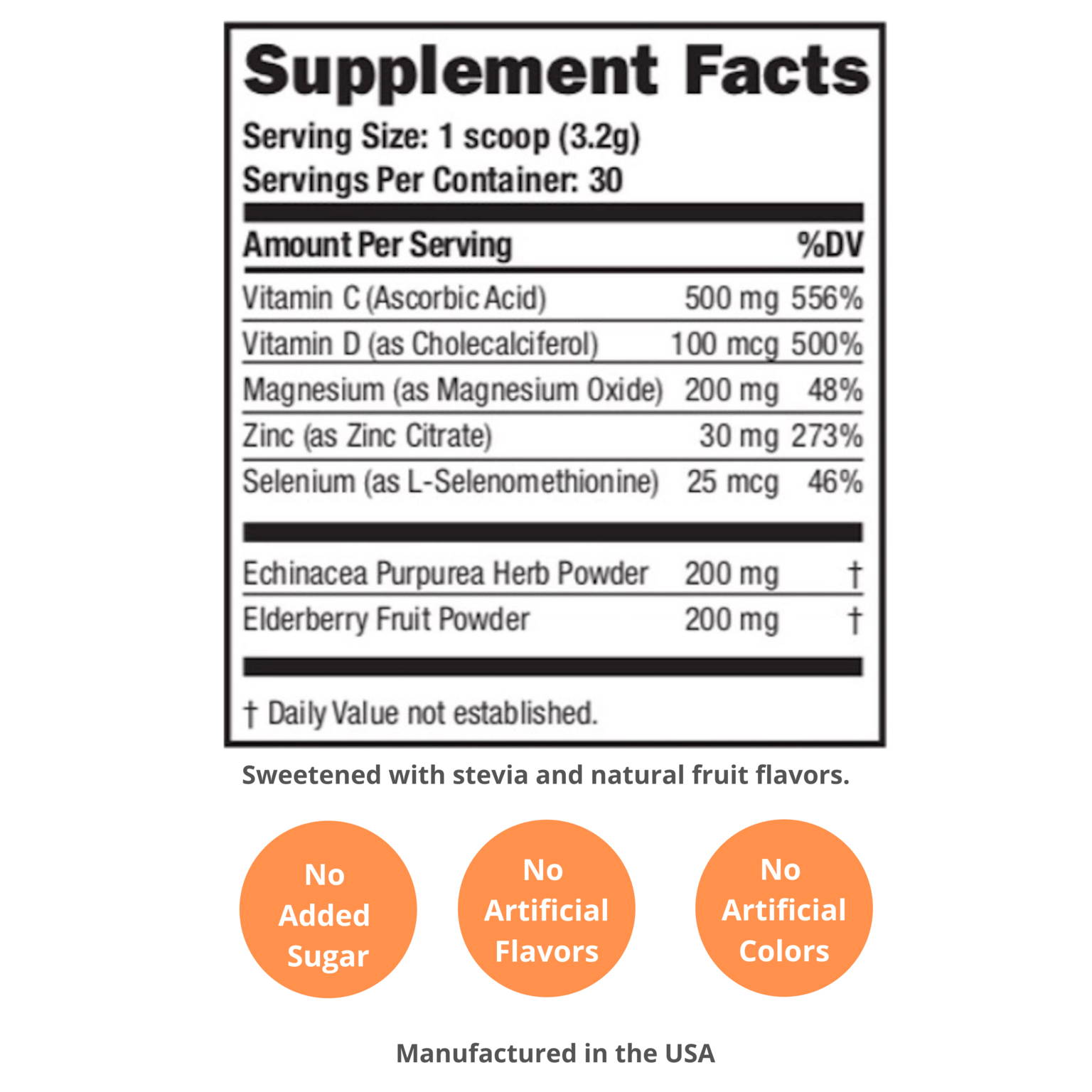 GET 30% OFF WITH CODE: FYXX30
Strengthen your body's natural defenses with a great-tasting, 7-in-1 powder loaded with immune supportive superheroes.
---
✅ Sweetened with stevia and natural flavors
✅ No sugar, artificial sweeteners, flavor or colors added
✅ Contains essential vitamins and nutrients like Vitamin C, Vitamin D, Zinc and more
LESS THAN $0.60 PER SERVING
Powerful 7-in-1 immune support is loaded with high amounts of Vitamin C, Vitamin D, and Zinc, plus other immune boosting superstars such as Elderberry, Echinacea, Selenium, and Magnesium.*
Help your immune system with one delicious drink daily instead of taking multiple vitamins and supplements per day.* Just mix one scoop (included) with 6-10 oz of your favorite beverage, stir well, and enjoy!
Delicious berry lemonade flavor. Sweetened with stevia and natural fruit flavors. No added sugar or artificial sweeteners.
Our 3 Favorite Uses for FYXX Epic Immunity Drink Mix
Add it to your breakfast smoothie blend.
The finishing touch to a refreshing afternoon drink.
Your favorite cocktail will never be the same.
Delicious and Natural Berry Lemonade Flavor
No matter what you add Epic Immunity to, from water to cocktails, you're going to love how it tastes. Pleasing your tastebuds and supporting your immunity at the same time - that's a win-win!
Here's how FYXX compares to other health food + beverages.
| | | | |
| --- | --- | --- | --- |
| | | | |
| | | | |
| Amazing ingredients to support your health | | | |
| So delicious that everyone will want to share | | | |
| Convenient and easy to integrate into your day to day | | | |
| Includes nutrients that can be hard to find in your foods | | | |
"Properly fueling your immune system is the number one way to strengthen your defenses."

- Stacy Kennedy (MPH, RD, CSO, LDN)

Vitamin C
Vitamin D3
Zinc
Echinacea
Elderberry
Selenium
Magnesium
We put good stuff in fun stuff.
At FYXX, we take proven ingredients: vitamins, probiotics, fiber, key minerals, and herbs and put them into great-tasting, low-sugar, and low-carb cookies, candies, and beverages.
SIMILAR PRODUCTS YOU CAN USE
Try one of our other flavors or fixes!